ArmyTek sent me one of their Predator Green LED tactical lights to review. I have to say that I am impressed with the overall quality of the light. I have been using it for the last several weeks or so around my property at night and the Predator is a super bright green LED light with a really tight spot.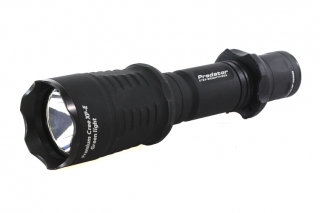 The Predator has a clicky-type tailcap button which can be clicked into the on position or partially depressed on/off for silent tactical use.
It has three modes: Full, medium and low brightness. These are accessed by twisting the head of the light 1/8 of a turn and using the tailcap button to cycle through the modes.
You can also disable the tailcap button by turning the tailcap half a turn. This will prevent the light from being activated by accidental push of the tailcap button, which is good for keeping the light from turning on in your pocket and is a necessity for stealthy military/police applications.
The light is very high quality and has an aircraft aluminum body with a flat black non-reflective casing (Premium type III hard anodizing 400HV) which is very rugged and is also surprisingly quiet when dropped or banged against something.
The Armytek Predator is way brighter and much higher quality than the Brinyte BR01 LED flashlight that I reviewed earlier. The Armytek Predator is a military grade flashlight.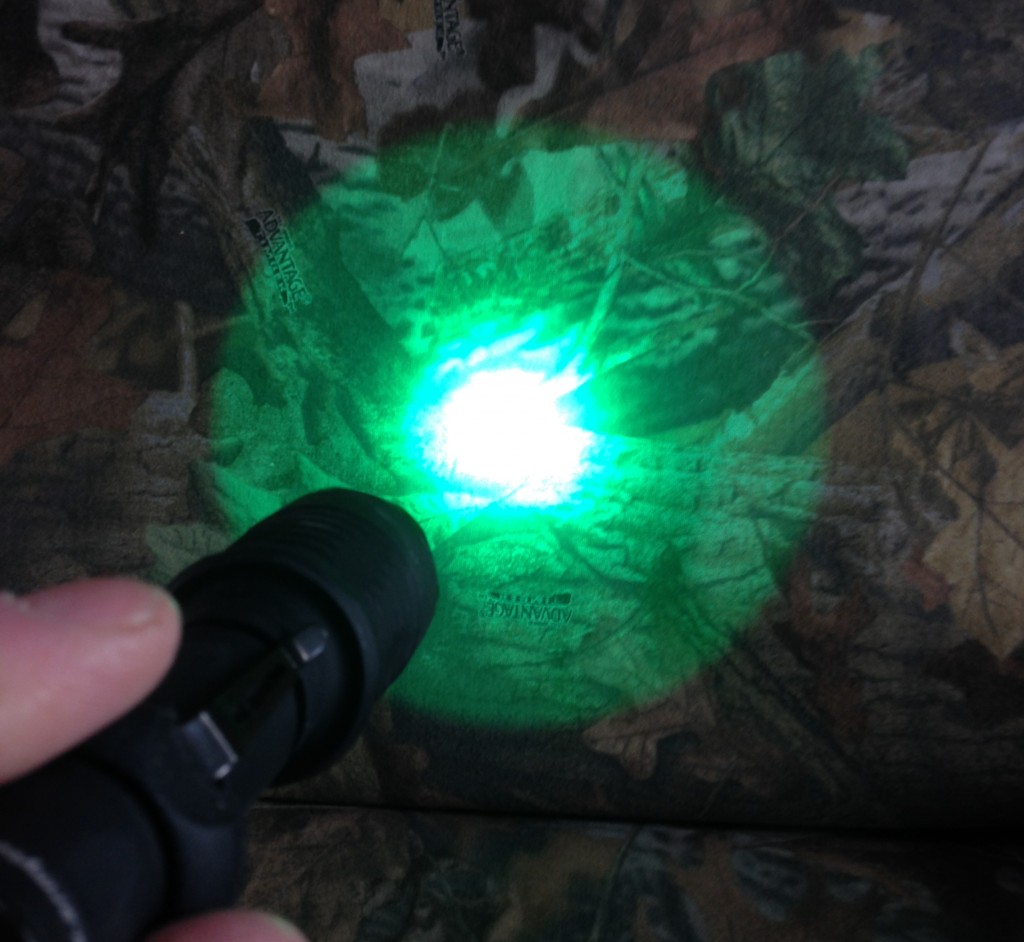 Personally, I prefer red LED lights for calling animals as I believe that animals are more tolerant of red light. Over the course of a month, I did shine several deer and half a dozen coyotes with the predator green LED around my property. On the low and medium brightness modes, the animals didn't seem to be bothered by the ArmyTek Predator, but on full brightness mode, they seemed to shy away from it.
While we don't have any hogs around here yet, I will say that this light would make a great gun mounted light for shooting hogs since from what I've read hog hunters prefer green shooting lights over red as it is better for target recognition and makes it easier to pick out the dark bodied hogs against the brush at night. If you prefer green lights for predator calling or hog hunting I'd say the ArmyTek Predator green LED light would be hard to beat.
Tactical Use
A tactical light is a special flashlight mainly used with firearms for aim illumination. You can also apply it to temporarily blind or disorientate the enemy.
The ArmyTek Predator Tactical Light is a great carry light for personal defense as the powerful green light has a very disorienting effect.
For a little tactical light comparison, I had my daughter take both my Klarus XT-11 (white LED) and the Predator (green LED) and shine them both at me from about 35 yards away. The green light of the ArmyTek Predator was way more intense than the white light of the Klarus XT-11 and made it really difficult for me to see anything.
It caused what I would describe as a laser light effect with the green light appearing as streaks of light as opposed to a solid beam. I don't know if that was just my eyes or what, but I found the green LED was way more intimidating that the white LED. I also tested it on some friends and they all agreed that the green light was way more disorienting than a white light.
Because of the disorienting effect from the green light, the ArmyTek Predator is a great light for personal defense, whether gun mounted or with its crenelated combat bezel as a non-lethal tactical flashlight.
While I may not use the green Armytek Predator for predator calling (only because I prefer red light), it is my go to tactical light for personal defense. I like it better than my Klarus XT-11 since as my earlier test proved, it is much more intimidating.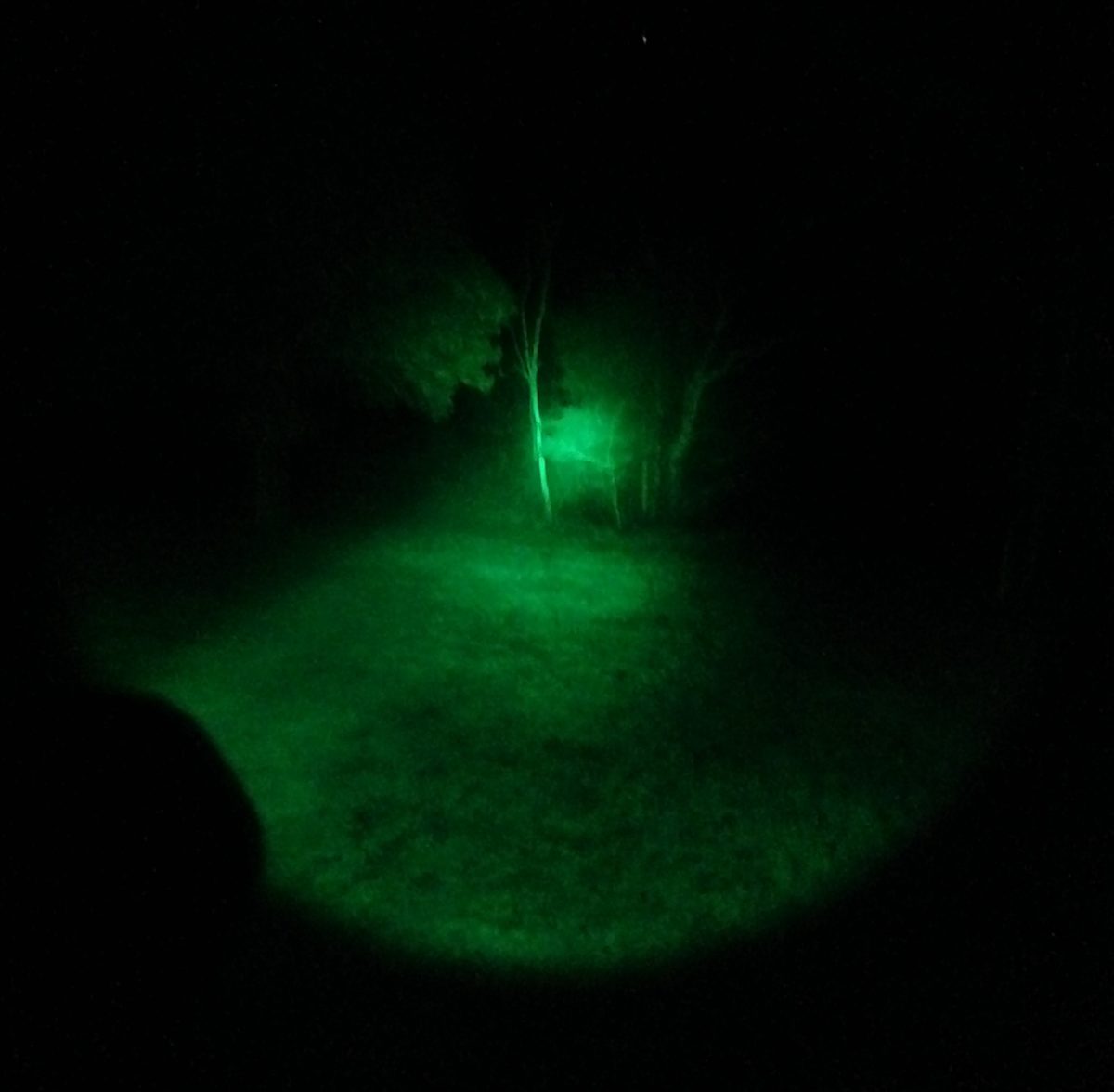 Here's an everyday example of practical, tactical self-defense use. The driveway to my house is quite a ways off the main road and one night I heard my driveway alarm go off around 10 pm. I looked out the window and saw an unknown vehicle approaching. I grabbed the ArmyTek Predator and headed out to see what the story was.
The vehicle stopped about halfway up the driveway, which to me was kind of suspicious, so I shined the front license plate and in the halo, I could see there were two occupants. Since they were stopped half way up just sitting there, I lit them up through the windshield with the Predator. They immediately backed up out on to the road and did not come back.
I'm not sure what they were up to, or what they thought was going on when I hit them with the piercing green light, but it made them gone quickly.
I am also impressed with how long the light lasts on one 18650 battery. Like I mentioned earlier, I have been using the ArmyTek Predator quite a bit (just about every night) for the last six weeks and have only charged the battery twice.
Product Specifics
The ArmyTek Predator green LED tactical flashlight is a top quality, military grade tactical light. It features an all black, non-reflective, "difficult to break body" and a rubber anti-roll ring, 270 lumen Green Cree XP-E LED along with the highest water resistance standard IPX-8.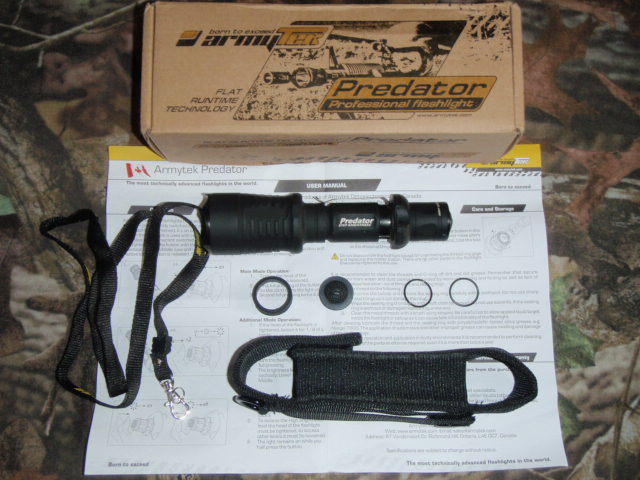 The Predator comes with a holster, lanyard, 2 spare O-rings, a spare rubber tailcap button, a stainless steel belt clip, a rubber anti-roll ring and a rubber ring to substitute the anti-roll ring.
It operates on 1×18650, 2xCR123A or 2xR123 rechargeable batteries.
Full Operating Manual: (PDF)
From the manufacturer:
Due to the innovative special-designed reflector ArmyTek flashlights emit maximal range beams among analogous same-sized flashlights.

They are the world's first and only compact tactical flashlights with real constant brightness (FLAT Runtime Technology): newest electronics maintains constant light brightness even with discharged 18650 Li-Ion battery and in -25⁰C degrees.
Buy ArmyTek Predator Flashlights
The ArmyTek Predator green LED flashlight at the time of this writing is available from ArmyTek for $79.95. ArmyTek also carries several white LED flashlights for military, hunting and search and rescue applications.
I wish they made the Predator with a red LED. If so, the ArmyTek Predator would be my go to predator calling light.