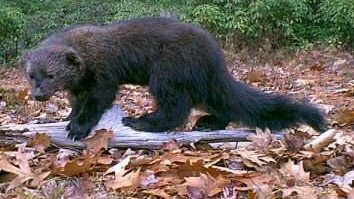 Today it is widely known that fisher cats inhabit the Cape, but nearly a decade ago there was much skepticism about their existence here. I have never seen a fisher here, ever, but I would love to call one in sometime.
Below are a couple of posts from an old blog of mine about the first reports of fishers on Cape Cod:
From 2005:
Fisher Cats on Cape Cod?

I have lived on Cape Cod for 30 years, and have never heard a noise like I did a couple weeks ago. It sounded like a combination of a wounded bird and a bad power steering pump. Being an avid outdoorsman I knew it was some kind of animal, but what was it?

After talking with friends, we figured out it must be a fisher cat, a creature that is not native to Cape Cod (at least in the last 30 years). Like the coyote, which was never around when I was a kid, apparently the fisher cat has made the Cape it's new stomping ground.

According to my research fisher cats eat, rodents, squirrels, house cats, rabbits, and raccoons. Anything that eats raccoons must be pretty tough. They are also famous for their ability to successfully hunt and kill porcupines. One of the very few other animals to prey on porcupines is a close cousin of the fisher, the wolverine.

Apparently the sound my friends and I were hearing is the fisher's mating call according to Mass Wildlife. The fisher mates during March/April.
From 2006:
Presence of Fisher Cats on Cape Cod confirmed by Sandwich Roadkill

There have been reported sightings of fisher cats on the Cape for more than two years, but there has never been any evidence to prove their existence. The discovery of a dead fisher on Route 130 in Sandwich confirmed their presence.

On Cape Cod, they've been mostly suburban legend, with sightings reported for nearly two years. But there has never been any confirmation that the critters had made their way across the Cape Cod Canal, according to Thomas French, assistant director of the Massachusetts Division of Fisheries and Wildlife.

Sandwich police Officer Bruce Lawrence saw what looked like a large cat or small dog at the side of Route 130 near the Massachusetts Military Reservation. He suspected it might be a fisher, but called animal control officer Timothy Houlihan to be sure. Houlihan brought the dead animal, which had been struck by a car, to Cape Wildlife Center in West Barnstable where experts there got their first look at Cape Cod's newest species.

"It's the first time we've had actual documentation," said Judy Ellal, a rehab manager and veterinary technician. "We've had sightings, but no photos to prove they exist here." Based on the size of the fisher and the good condition of its sharp teeth, Ellal suspects it was about 1 year old. She said it weighed 11 pounds and was 23 inches long, including a 15-inch bushy tail.

Wildlife experts say with an already growing fox and coyote population, it's another reason to keep cats and small dogs safely indoors at night. They don't believe there is any threat to small children, however. "It's a fair assumption you're not going to have toddlers running around the woods at night," Ellal said, noting that fishers are nocturnal.

Fishers don't attack dogs, but can defend themselves against larger animals if they're cornered, French said.

The discovery confirmed what Peter Trull, a wildlife specialist and middle school science teacher, has been saying for several years – fisher cats are here.

Fisher cats were nearly eliminated from the state because of extensive land clearing in the 1860s, French said. Now they are returning and they've moved quickly from northern and western Massachusetts over the past 10 years, he said. The state Web site specifically mentions Cape Cod as one of the areas where fisher cats are not found, but French said that will be updated.

Cape Codders won't be running into fisher cats, though. Even in forests heavily populated with them, sightings are rare, he said.

Beavers and the northern raven are the next species that could return to Cape Cod, French said. Bear and moose have been making comebacks in the western part of the state and they too are slowly headed this way, he said.

But don't expect to run into one in the Shawme Forest any time soon.

"It's going to be a long time – decades and probably never – before a moose or bear crosses the canal," French said.
Here is a video from Stow, MA showing a fisher scavenging the site of a deer carcass:
httpv://www.youtube.com/watch?v=ZYm6Pxw3jX0